This content is specifically for Microsoft 365 / Exchange Professionals managing 100 or More Users
See how different IT Pro's were able to find a source of friction for smartphone users and implement a solution that exceeded user expectations, reduced help desk calls with a quick return on investment.
Ethan B.
Early Adopter
Before
"Our biggest issue was not having the contacts in our GAL accessible to everyone on their phones.
After Centralized Contact Sync
"This became an effortless process and the results have been fantastic. We created groups of contacts for users in the different departments of our organization without any involvement on their part"
Duration to Implement
4 hours
Source
G2
Ed H.
Early Adopter
Before
We struggled for years to be able to get contacts to end users' mobile devices. We had a person that it was literally part of their job duties to maintain CSVs for all employees and import them to the mailboxes so they would appear in their mobile contacts. And if one changed, they would either need to update all the user's mailboxes or communicate the change to the end users. A complete waste of time.
After Centralized Contact Sync
CiraSync eliminated the need of this useless work and made it very simple to maintain accurate and up-to-date contacts on ALL mobile devices.
Duration to Implement
4 hours
Source
G2
Doran B.
Early Adopter
Before
We looked for a product to do this for a very long time and even invested a ridiculous amount of money to have someone build us an Azure based app/site to do the sync, which eventually stopped working after Azure updates and changes.
After Centralized Contact Sync
We were quickly and easily able to start syncing a company phone list to all of our iPhone users.
We are so glad that we found CiraSync. It has done exactly what we wanted it to do and I know it can do more. And it's reasonably priced.
Duration to Implement
1 hour
Source
Capterra
IT System and Support is Hard
You are a dedicated IT Pro supporting Microsoft 365 and want to provide amazing service to your end users. However, there is usually one too many fires to put out. On rainy days and Mondays, things always seem to go down.
Any given day at noon, four users have forgotten their password, two have printer issues, one with a frozen computer and another that insists someone deleted the file they were working on last night. Lets not even talk about the phishing email someone clicked on and gave out their password.
Of course, you have resolved every one of these tickets even without an in person visit.
Still, there is too much break fix, not enough time to do important work.
Sometimes you need to have a "Win". Your manager would know that you solved a hidden problem and saved money in the process. That will mean a lot of happy users, including "C" Level executives.
You want to deploy new technology that's scalable, helpful and is easily managed. Maybe … it would be a notable to be acknowledged for your talents once in a while.
Every day, co-workers, end users, senior managers call you. You are interrupted. You still help and you deliver results.
Even if it isn't running on your desktop, multitasking is always running in your head.
No — you aren't stuck in an infinite loop. You can get to the next level.
You have identified problems that send tech users down a rabbit hole. It creates help desk havoc. You have the skills to rollout the right technology and overcome this challenge but you need to be allowed to do things right once in a while.
Are you blamed? When anything with tech goes wrong – the users always blame IT, even when they know it had nothing to with IT. Why do they do that?
You hate seeing recurring problems for your end users. It wastes their time. They are doing important work. They are frustrated. Why aren't we putting on guard rails for them? Why aren't we automating things that can realistically be automated so users don't need to do crap tasks (that cause even more dumb problems for IT?)
Something new You Can Do
The truth is that in several years, every enterprise messaging system will automate contact lists for users. Does it make any senses at all for end users to manually enter and update contacts for co-workers ?
You could put a solution in place way ahead of your peers, cut back on help desk calls, grow user satisfaction.
One person really can do the work of 1000 people. It just makes sense: all 1000 smartphone users get the benefit from a single employee keeping contact lists complete and accurate.
Most IT departments don't even consider this inefficiency., ignore the benefits because very few Smartphone users even understand their own problems. They have a little bit of pain each day. They manually edit their contacts. They deal with mysterious calls and text messages. They have trouble reaching co-workers.
This is such a simple problem to fix — yet it only gets fixed AFTER the inevitable shit storm.
Years in business
Cira Apps Limited
Founded January 2016
itrezzo, Inc
Founded January 2001
Certifications and Product Achievements
Microsoft Silver Partner
Microsoft AppSource enabled
G2: 80 reviews 4.5 star (out of 5), Badge: High Performer, Best Support
Capterra: 85 reviews 4.6 star (out of 5)
Mr. Weitzman started deploying BlackBerry Enterprise Server in 2001 to Fortune 1000 companies and saw a problem that users were manually having to add contacts to their smartphone address book.
He looked for a solution to auto populate and keep GAL contacts up to date and couldn't find anything. Customers started asking for this solution but when 9/11 occurred, they were urgently needing a solution to this problem.
I got fed up and finally just had my developers create a proof of concept solution.
The solution worked better than everyone ever expected. It has numerous side benefits and the first customer bought 2000 seats.
Other customers started asking if it could work for them and my new mission was to get the solution in to the market.
Unique and Useful Insights
A smartphone user receives or makes phone calls, receives, or sends text messages.
The Old Way
A user's smartphone address book is hap hazard and sometimes randomly updated. Some contacts for coworkers are present but most are incomplete and, in many cases, inaccurate. The bigger problem is that there are potentially hundreds of contacts missing.
The most common way to overcome this was for each user to do some annoying work:
Hand edit changes to coworker or customer contacts
Create contacts for new staff members.
Remove contacts of terminated employees
As soon as they find out someone's new number, stop and update that contact.
The New Way
One person maintains a master contact of all employees in a contact folder. Alternatively, the Global Address List is kept up to date.
Using sync automation, the master contact list is pushed to hundreds or thousands of smartphones.
Users don't have to do anything. No training is required. No software needs to be installed at their desktop or on their smartphone.
The IT Team is in complete control with a web-based dashboard to manage all contacts lists on all smartphones.
The Old Result
Most users will not take the time to update their own contacts. As a result, smartphone users often get stuck while out of the office.
When contact lists are poorly maintained, there are barriers to communications:
Missing important phone calls
Blocking unrecognized callers
Confusing / Anonymous text messages
Zombie calls (calls from a dead person)
Can't reach people because they are lacking a specific phone number, or they have an outdated number.
The New Result
Smartphone users have near instantaneous ability to reach anyone in the company, vendors, or customers. Inbound calls, voicemails, missed calls, text messages now shows callers name, photo and title.
User smartphone address books are automatically populated. New employees start and they have everyone's contact information on their first day. Everyone has the new newbie's contact info on the same day.
One person can do the work of 1000 people. The efforts of a data steward that carefully maintains contact lists can be synced to hundreds or thousands of smartphones providing near real time updates to smartphone address books.
Smartphones are ingrained in the corporate landscape of Microsoft 365 and Exchange. Employee productivity is compromised when smartphone address books are left to die of loneliness. You can maximize the benefit of smartphone address books by maintaining one "Employee master copy of record"
Dmitriy M.
Early Adopter
Before
Before, "We would have to manually maintain and update contact lists and send updated details to the employees daily. This was a pretty lengthy process."
After Centralized Contact Sync
"This became an effortless process and the results have been fantastic. We created groups of contacts for users in the different departments of our organization without any involvement on their part"
Duration to Implement
3 hours
Source
G2
Alternative Results
If you are thinking it is beneficial to start get end user smartphone address books updated, there are a few ways to achieve this:
| | | | |
| --- | --- | --- | --- |
| | Alternative | Alternative Results | Alternative Price |
| 1 | Do Nothing | Ask users to be more diligent about updating their contacts | Productivity loss $200/smartphone user per year |
| | Someone else | Partial solution. Get EA to update contacts for all VIP's | EA's time, about 30 minutes per exec per month |
| 2 | Drag and Drop | Depends on user compliance, Slow process. Can be done incorrectly making things worse | Employee staff time. Additional IT staff time to fix |
| | Share Mailbox | Hard to manage, not scalable, anyone can change master contact list. Bad for BYOD – can't disconnect separated employees | A few minutes to setup each user, fix accidental changes to master, daily prayer time to ask god so you won't need to reset password |
| 3 | In house script | Costly to develop, maintain, modify, diagnose. Inefficient use of Bandwidth | 50 to 100 hours developer time depending on requirements |
Alternatives are also described in this video: https://www.youtube.com/watch?v=49mMkFwZn_4
Or, you can use CiraSync on Microsoft Office 365. Setup takes minutes and you can centrally manage contacts for all of users from a single dashboard.
Anyone that tries it immediately gets that it is way better, saves an immense amount of time and to boot – it's cheaper.
If you are in Information Technology and you want to give every cost-saving benefit possible to your end users, this solution is for you.
Small Community Based Organization
Even for a small community-based organization with 60 smartphone users and three hundred items in their contact lists, there is still a significant problem getting users to update smartphone address books. Because no single contact item was used frequently, there wasn't an incentive to update the contact list.
Wendy S.
Early Adopter
Before
Critical contacts, security codes kept changing. Field users didn't have correct information.
After Centralized Contact Sync
"When a code is changed, I can push it to everyone's phones quickly. The system is versatile and gives people who are on call for a 24×7 organization accurate information at their fingertips."
Duration to Implement
1 hour
Source
G2
Using Centralized contact synchronization, this organization got their contact lists distributed while achieving a 10X return on their investment (which was $60/month).
Explicit costs of and savings of centalized contact management for a community based organization
| | | | |
| --- | --- | --- | --- |
| Community Organization Contact Lists | Total Items | Average Monthly Contact Changes | Average Monthly Attribute Changes |
| Emergency Codes | 4 | 0 | 0 |
| Transportation | 65 | 10 | 25 |
| Maintenance | 25 | 1 | 4 |
| Clinical | 150 | 10 | 50 |
| Miscellaneous Static Contacts | 15 | 0 | 0 |
| Staff | 80 | 7 | 35 |
| Total Contact Changes | 339 | 28 | 114 |
| | | |
| --- | --- | --- |
| Community Organization Shared Calendars | Items on Calendar | Average Event Changes Each month |
| Maintenance Calendar | 10 | 2 |
| Staff Vacations | 20 | 3 |
| Total Event Changes | | 5 |
| | | |
| --- | --- | --- |
| Number of Smartphones Targeted | 60 | |
| Avg Fields Changed/User | 114 | 6840 |
| Avg Event Changes/user | 5 | 300 |
| Average Attributes changed each month | | 7140 |
| | |
| --- | --- |
| Time to Update One Attribute (seconds) | 10 |
| Total time to update all smartphone items | 71,400 |
| Hours Saved/month | 19.8 |
| Cost per Hour | $34 |
| Staff gains per month | $664 |
| | |
| --- | --- |
| Average Fully Burdened cost of Employee | $67,000 |
| Average Employee Cost per hour | $34 |
| | |
| --- | --- |
| SaaS Sync Software | $60 |
| ROI per month | $604 |
Decide to adopt a centralized contact management strategy. The big benefit is that you will be establishing a new and advantageous standard of services to smartphone users. When the company policy to sync the GAL to all smartphones is implemented, no one ever need hand edit, create, or delete contacts for co-workers. Contact List automation becomes part of the IT standard of care for anyone with a smartphone connected to Microsoft 365 or Exchange.
One person maintains the list and does the work of 1000 people.
Users don't need to be bothered to do a laborious task of contact list management.
Users can forget about the repetitive help desk calls dealing with goofed up contacts, wrong phone numbers and missing phone numbers.
| | |
| --- | --- |
| New Activity | How it's easier, better, faster, cheaper |
| Sync the GAL to every iPhone and Android smartphone | When contact details in the GAL are kept up to date by the IT team, it's extremely easy to push all of the GAL entrees to smartphones as contacts. That is massively better then asking users to create and edit those same contacts in their smartphone address book. |
| Sync a public contact folder or a shared mailbox to every iPhone and Android smartphone | One person keeps the employee contact list up to date. With a single sync configuration, 1000 smartphones can rapidly get the exact replica of the employee contact list. Instead of hundreds of hours of labor by each employee, the process is automated. |
| Sync a public folder calendar or a shared mailbox calendar to many smartphones | If you have a company calendar with staff vacations, company holidays, project milestones or on call staff rotations, you can instantly sync these calendars directly to the exact smartphone users that need it. |
When smartphone users need to reach co-workers, it's a reliable and consistent experience.
When phone calls come in from co-workers, a photo, name and title of the caller will appear.
The same is true for text messages – when there is an incoming SMS message from a co-worker, their name and photo is displayed.
There will be no more calls from dead people. We aren't kidding. When the unfortunate staff member passes away, their phone number is eventually reassigned. When the new hire uses the dead person's phone number, guess whose name appears? This causes momentary heart failure and eventually a call to the helpdesk.
This is all fixed with centralized contact management for smartphones.
Erica C.
Early Adopter
Before
Before CiraSync, staff had to manually update their contacts on their address book on Outlook every time there was a change (which was often). The process was also very time consuming, so it rarely got done.
After Centralized Contact Sync
Now with CiraSync, it is a world different! We love that the sync is set-up to auto-update. Staff don't have to use valuable time to have up-to-date information at their fingertips. WE LOVE CIRASYNC!
Duration to Implement
1 hour
Source
G2
Construction firm with 1500 Microsoft 365 users' cuts $120k in Help desk costs
CIO saves dozens of hours of help desk time each week with and eliminates smartphone user complaints.
Even before being promoted to CIO, Anthony had realized many years earlier that if his team could centrally update Outlook Contacts for smartphone users, those users would be more productive and that would result in fewer calls to the help desk.
The Old Way
Help desk was manually updating contacts for about 600 smartphone users by drag and drop and CSV imports.
The New Way
The public folder contact list is synced to the Outlook contacts for every smartphone, every night using a SaaS solution.
The Old Result
Many users were getting updates so infrequently that they would call the help desk and report missing or wrong contact details. The help desk agent assigned to the ticket had to mount the users contact folder, wipe it clean, and drag the public folder to copy all of the latest contacts. There was barely enough time to cover senior staff. There was no reporting to know which mailboxes were out of date.
In certain cases, the help desk agent might forget to clean the old contacts and the smartphone user would have duplicates. They would see two of everyone in their address book. 50% of the time, these users would call the wrong number!
The CIO estimated it was taking the equivalent of one FTE to do a less than adequate job of keeping contacts up to date. He already knew the fully burdened cost of a help desk tech was $120,000.
The New Result
The employee master contact list is updated throughout the day; an administrative assistant adds new employees and removes or updates this public contact folder religiously.
When a new employee is on-boarded, the help desk doesn't even have to think about smartphone contacts. The new hires contacts are automatically synced on their first day. Even more important, everyone gets the new person's contact details.
The total ROI is greater than $120,000/year and continues to grow as the company grows.
That is when Anthony started instructing the help desk to populate the Outlook contact folders in VIP mailboxes. The team could barely believe they had to do this. After all, "it is the responsibility of each user to update their own damn contacts!!" Who could argue with that?
At the time, there were only 50 people with smartphones. The help desk staff would drag and drop the public folder into the contacts folder of each user. It was a bit awkward, but it got the job done – even if the contacts were only updated once a month.
By proactively solving the problems of the company's senior managers and VIP's, Anthony was just adding to his list of achievements that brought great value to the company. His promotions were inevitable.
However, due to acquisitions and organic growth, the company now had to manage 1500 users and 600 had company smartphones. It was taking dozens of hours each month to update user contacts using the manual process.
Realistically, the Help Desk team could touch users only once every few months. That meant that contact quality was seriously compromised.
That's when Anthony went searching for an automated solution to sync the employee master contact list to all smartphones. He located a SaaS solution that tightly integrated with Microsoft 365 and his team was quickly able to set up the synchronization for all 600 smartphone users in just minutes. The first night it ran, it took 11 hours and created 900,000 contacts.
1500 Employee Contacts * 600 smartphone users = 900,000 contacts
About the "new result": In the simplest terms, one person now does the work of 600 people. All smartphones are updated daily and the help desk doesn't have to do a thing other than the normal on-boarding process for new employees.
Calculation of Cost Savings: The fully burdened cost of an employee who is paid $60,000 per year in many companies is 2X or calculated at $120,000/year. This usually includes payroll taxes, benefits, vacation, insurance, building costs, sick pay, managers, HR, and Information Technology. Anthony however spent quite a bit of time budgeting and he knew the cost of headcount in his department.
His savings were $120k per year and the SaaS solution was about $8000 per year. Prior to purchasing the SaaS software, he had gotten approval to hire one more help desk agents. There was enough time freed up amongst all of the agents now that he could clearly see his ROI was:
$120,000 Annual Savings – $8,000 annual subscription = $112,000 annual ROI
HVAC Company goes from frustrated smartphone users to saving $240,000 /year.
IT Help Desk hero saved his company $240,000 year.
Dan works in IT at a large HVAC company. With about 700 smartphone users on Microsoft 365 and rapid growth in their company, they could not keep pace with contact changes on smartphone address books.
The Old Way
Each smartphone user was adding and removing contacts when a new coworker was hired or left the company. A lot of time was spent hand editing contact lists. It could take 10 to 20 minutes per week just to keep up with the changes.
The New Way
Using Office 365 Groups, contact list creation is automated across hundreds of smartphones based on group membership and geographic region. The entire procedure is so automated now that new staff contacts are invisibly added to smartphones across the company.
The Old Result
When someone forgot to update their contact list, there could be a penalty later when an important call had to be made. When new employees called co-workers, the calls look like spam since they could rarely afford to take calls unless it was relevant.
The New Result
Field users call and text new employees without any labor or even awareness of the dozens of updates magically added to their smartphone each month. The company's own estimate is that labor savings easily exceeds 40 minutes per month and that completely ignores the huge energy savings that staff members get every time they access their smartphone address book.
The total ROI is $242,000/year.
For an average sized company of 700 employees, staff onboarding and offboarding can necessitate about 50 smartphone contact updates each month. Automating smartphone contact updates can save employees 8 to 12 hours per year in menial tasks and give them the tools they need to do their job.
About the "new result": The existing IT onboarding already added new employees to a specific geographic targeted Distribution Group. The contact list automation was derived from these groups. This no human intervention was required (neither IT nor end users) to add new employees or subtract separated employees.
Calculation of Cost Savings: The fully burdened cost of an employee who is paid $60,000  per year in many companies is 2X or calculated at $120,000/year.  This usually includes payroll taxes, benefits, vacation, insurance, building costs, sick pay, managers, HR, and Information Technology. Using a conservative calculation and assuming overhead adds only 50% to the cost of the salary, the cost of this employee is $45 per hour. Employees can save 10 to 20 minutes per week when they don't need to do any contact maintenance.
| | |
| --- | --- |
|   | Employee Cost to Company |
| $60,000 | Hypothetical Base Salary |
| 50% | Overhead (low balled) |
| $30,000 | Overhead in Dollars |
| | |
| --- | --- |
|   | Cost per hour calculation |
| $90,000 | Fully burdened cost per year |
| 2,000 | Work hours in a year |
| $45 | Fully burdened cost per hour |
| | |
| --- | --- |
|   | Labor savings with Contact List automation |
| 8 Hours | Saved (each year) |
| $360 | Savings per year per employee |
| 700 | Number of employees |
| | |
| --- | --- |
| $252,000 | Total Savings via Staff reduction in Labor |
| $10,000 | Automation, Total Cost of Ownership 1 year |
| | x |
| $242,000 | Net ROI |
Dan shows us a snapshot of contact updates from the last 30 days for his Microsoft 365 tenant and yuo can see that there were about 130,000 contact changes. If you measure an employee making these changes at 2 minutes per contact, that would be 260,000 changes for a total of 520,000 minutes or 8667 hours of labor. This would be $390,015 in just one month!!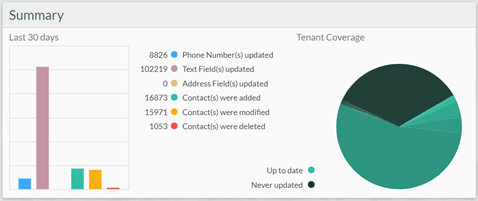 Consulting firm with 5000 users on Microsoft 365 saves $450,000 in Mobility costs
International Consulting firm goes from frustration and squandering hundreds of hours, to saving 450k per year while drastically improving employee satisfaction.
The company has 4000 consultants working around the globe. Since clients are also multinational, projects span the globe. Reaching far flung colleagues is a routine task.
Since consultants are working at home and at client sites, the challenge was a certain type of access to the corporate directory from smartphones.
A recurring message from consultants was the overwhelming need to take advantage of caller ID on their phones. If the entire employee directory was in their address book, that would be possible.
How does a user add all 5000 contacts to their address book so caller ID will be effective? Even more important, how do those contacts say up to date?
Spending one hour per month keeping their address books updated, it was not realistic to keep up with the changes.
The IT team stepped in and used some mass import procedures and scripting procedures. They were unable to derive a solid solution. For example, the app they built took 150 hours of development time. When it ran, contact updates took 20 minutes to process each mailbox. That's 55 days to update all mailboxes. When it would occasionally fail, it essentially started a "dumpster fire" so hot, even the CIO would feel the heat.
They were considering three choices that were all dreadful:
1) Ignore the issue. Damn the torpedoes. Tell the users to keep their own contacts up to date.
2) Use a more meagre update method (Outlook drag and drop) for only the most vocal users.
3) Continue putting more resources into the home-grown app.
They couldn't really live with any of those options. They needed a better result.
They chose a SaaS solution that removed all compromises with consistent results and had a very reasonable cost of ownership.
The Old Way
IT staff were manually pushing contacts to each of the 4000 employee phones. Using various techniques that were ineffective, it was taking more than 100 hours a month.
The futile effort was placing the burden back on the users resulting in another collective loss of 350 hours per month for those who were manually performing contact updates.
The New Way
Third party SaaS application syncs employee Global Address List to 4,000 mailboxes on Microsoft 365.
The Old Result
Users were frustrated that they were unable to access the company Global Address List on their smartphones. Compounding the frustration from a lack of accurate company contacts, employees were regularly screening and missing calls due to a lack of caller ID.  Reachability for new consultants and contact changes caused additional problems.
These repeated complaints did not fall on deaf ears, and IT spent hundreds of hours annually trying to mitigate this problem.
Calls were missed, client calls went unanswered, projects were delayed, and IT wasted significant time providing a Band-Aid solution.
The New Result
Worldwide consulting staff now enjoy the ability to call or text anyone coworker with a few keystrokes. Incoming calls display name, photo, and title of co-workers. No more anonymous text messages.
When a new employee joins the company, a contact changes, or someone leaves, the new information is automatically populated in every smartphone. New consultants are immediately reachable and have the entire company directory in their smartphone on their first day.
IT no longer wastes time performing crude updates of these contacts, freeing up time for other projects.
The ROI is estimated at $450,000 – as the company grows, the ROI increases.
A company of over 5,000 people can easily have hundreds of contact changes every month. By utilizing a Global Address List sync solution, a barrier to user productivity was eliminated.
The benefits extend beyond this however, while there are the technical and financial benefits from the solution, there is another hidden feature – employee satisfaction. "Done for you" is a huge win for IT. No one wants to be adding, editing and deleting from contact lists.
Calculation of Cost Savings: With 4,000 employees regularly struggling to find internal contacts, it meant a significant amount of time was wasted searching for phone numbers. If every employee had only one missing phone number each month, wasting five minutes of time searching for data, the company would be losing 333 hours of time every month.
4,000 employees x 5 minutes per month = 20,000 minutes lost per month.
That's 333 hours each month. With 12 months in the year, that's 4,000 hours wasted annually.
With 2,000 work hours in a year, that's equivalent to the cost of two full-time consultants.
With the fully burdened cost of each consultant being about $250,000 per year, the company is looking at nearly $500,000 in savings.
With the solution costing them $50,000, that's a 10x return on investment.
This is before factoring the business cost of missed calls from sales prospects and the opportunity costs of billing for those lost hours.
Due to all these factors the consulting firm estimates they save over $450,000 annually with the solution.